The latest:
Israel Defense Forces warn residents of Gaza City and northern areas to continue heading south as the military announces a six-hour window to flee along specified routes
The IDF has confirmed that Hamas is holding more than 120 civilians hostage in Gaza.
Israeli airstrikes have killed 70 and wounded 200 people evacuating northern Gaza, according to Gaza's Interior Ministry.
Israel said that it has hit a Hezbollah target in southern Lebanon.
Hamas tells civilians to ignore an IDF call for 1.1 million civilians to evacuate to northern Gaza for southern areas within 24 hours "for their own safety."
U.N. says 423,000 people displaced in Gaza.
Russia circulates U.N. Security Council draft resolution calling for a humanitarian cease-fire.
The war has claimed at least 3,200 lives on both sides since Hamas launched an incursion on Oct. 7.
Israel's military has announced a roughly six-hour window for Palestinians to continue fleeing south along specified routes inside of Gaza, as thousands vacate their homes following evacuation orders ahead of a possible Israel Defense Forces ground assault.
"Follow our instructions — move south of Wadi Gaza," said IDF spokesperson Richard Hecht during a Saturday press briefing, suggesting residents who remain north of that geographic location may be faced with a possible Israeli offensive.
IDF officials also told the residents in northern regions they could continue to travel south on the territory's main highways Saturday "without any harm" until 4 p.m.
The Israel Defense Forces confirmed early Friday that it had notified residents in Gaza City to leave for "their own safety and protection" after it vowed to annihilate Hamas after its fighters stormed through towns and villages in southern Israel last week, killing 1,300 Israelis, mainly civilians, and making off with scores of hostages.
"You will be able to return to Gaza City only when another announcement permitting it is made," IDF spokesperson Lt. Col. Jonathan Conricus said in a live-streamed briefing on the social media platform X, formerly known as Twitter.
Hamas has called for everyone to "remain steadfast in your homes and to stand firm in the face of this disgusting psychological war waged by the occupation," according to reports by The Associated Press.
Israeli infantry made their first raids into the Gaza Strip on Friday, according to a Reuters report citing an Israeli military spokesperson who said troops backed by tanks mounted raids to attack Palestinian rocket crews inside of Gaza and sought information about the location of hostages.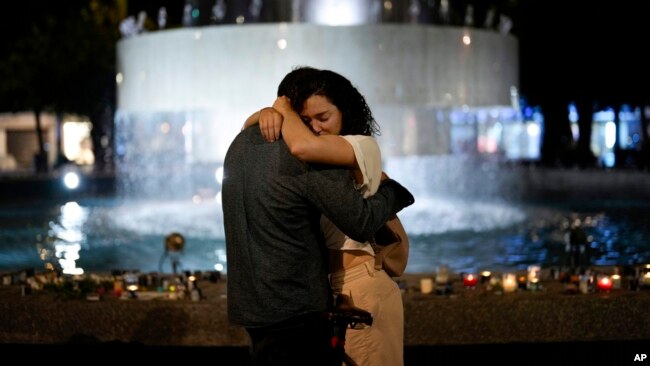 A Saturday report by Israeli newspaper Haaretz said the bodies of several Israelis were retrieved by Israeli military in those raids, during which troops allegedly destroyed some "terrorist infrastructure and squads" and found items that might lead to more missing Israelis. Israel's military said early Saturday that it has confirmed that more than 120 civilians are being held hostage in Gaza by Hamas.
Palestinian U.N. Ambassador Riyad Mansour told reporters Friday that Israel's evacuation order amounts to "ethnic cleansing" of hundreds of thousands of Palestinians who have nowhere to flee.
"We don't know what's happening at this moment in the northern part of Gaza where the Israeli occupying forces told people to evacuate — people don't know where to go," Mansour told reporters. "There is no safe place in the Gaza Strip."
In Tel Aviv, Israeli army spokesperson Avichay Adraee told Alhurra, an Arabic language satellite TV sister organization of the Voice of America, "In every sense of the word, we are escalating our raids and attacks on Hamas' hideouts in the Gaza Strip, and this is what is actually happening, after we targeted geographical areas that Hamas exploited to establish its hideouts there, such as Al-Rimal neighborhood, Beit Hanoun, and so on.
"We are now warning the residents of Gaza City and calling on them to leave those areas because they are being used by Hamas to lead and direct military operations against Israel," Adraee said. "Therefore, as we said and announced clearly, Israel will intensify its strikes in this region."
Israeli airstrikes have killed 70 and wounded 200 people evacuating northern Gaza, according to Gaza's Interior Ministry.
No electricity, water, food
An airplane with World Health Organization medical supplies bound for Gaza landed in Egypt early Saturday, near the Rafah crossing. WHO Director-General Tedros Adhanom Ghebreyesus said the supplies will be deployed as soon as humanitarian access through the crossing is granted.
Tedros urged Israel on X, formerly known as Twitter, to reconsider its decision to evacuate 1.1 million people. "It will be a human tragedy," he said.
Tedros' comment repeated similar warnings made Friday by U.N. Secretary-General Antonio Guterres, who criticized Israeli forces over the evacuation timeframe.
"Moving more than 1 million people across a densely populated war zone to a place with no food, water or accommodation, when the entire territory is under siege, is extremely dangerous," he told reporters.
Israel put Gaza under a "complete siege" Monday in response to Saturday's deadly Hamas attacks, which killed more than 1,300 Israelis.
Palestinians are currently without electricity, water and fuel, making a mass evacuation even more risky and complex. Israeli strikes have killed about 1,800 Palestinians, according to Gaza's health ministry.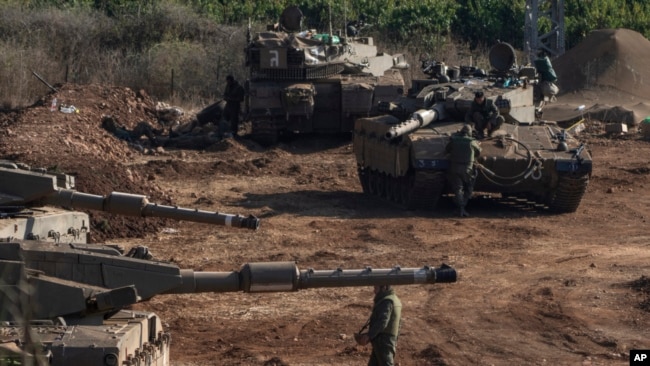 "This is chaos, no one understands what to do," Inas Hamdan, an officer at the U.N. Palestinian refugee agency in Gaza City, told the AP, adding that U.N. staff are evacuating northern Gaza.
The U.N. Relief and Works Agency for Palestine Refugees in the Near East said it has relocated its central operations center and its international staff of about 300 to southern Gaza to continue its humanitarian work. The agency has about 13,000 staff in Gaza, the overwhelming majority of whom are Palestinian.
"They are U.N. facilities. They must be protected … and must never come under attack in accordance with international humanitarian law," the U.N. group said in a statement.
Military build up
Israel has positioned some 300,000 reservists near the border with Gaza but has said no decision has been made on moving forward with an offensive. In the meantime, it continues heavy bombardment of Gaza, vowing there will be no letup until Hamas releases the more than 120 confirmed hostages.
Israeli and Lebanese media reported clashes Friday along the countries' mutual border, where Reuters videographer Issam Abdallah was killed and two of his colleagues were injured in an Israeli artillery strike. Reporters from Agence France-Presse and Al Jazeera were also injured. Reuters said it is "urgently seeking more information."
Meanwhile, the Committee to Protect Journalists has documented at least seven journalists killed in Gaza since Saturday.
Blinken, Austin in region
U.S. President Joe Biden on Friday spoke for more than an hour with family members of Americans who remain unaccounted for following the Hamas attack on Israeli soil, telling them during the call that he was personally committed to doing everything possible for the return of their loved ones. The United States has said that 27 Americans were killed in the terror attack and 14 are missing.
U.S. Secretary of State Antony Blinken met Friday with Jordan's King Abdullah in Amman, a day after holding talks with Prime Minister Benjamin Netanyahu in Israel. In Amman, Blinken also met with Palestinian Authority President Mahmoud Abbas, who has been reluctant to condemn the Hamas attacks despite no love between the two Palestinian factions. But he appeared to take a step in that direction Friday.
"We reject the practices of killing civilians or abusing them on both sides, because they contravene morals, religion and international law," the official Palestinian news agency, WAFA, quoted Abbas as saying.
From Jordan, Blinken traveled to meet with top leaders in Qatar, where during a press conference he was asked about the fate of Palestinians whom Israel ordered to evacuate from northern Gaza. Blinken described a complex situation where Hamas is using Palestinian civilians as human shields and is reportedly blocking roads so people cannot flee.
"Our focus now is on helping to create safe zones," he said. "We're doing that with the leading international organizations; we're doing that by engaging with Israel; and we're working with other countries."
Meanwhile, U.S. Defense Secretary Lloyd Austin arrived in Israel Friday for meetings with senior government leaders and to see firsthand some of the U.S. weapons and security assistance that Washington has rapidly delivered to Israel with more to come.
VOA White House Correspondent Anita Powell, State Department Correspondent Cindy Saine, U.N. Correspondent Margaret Besheer and Pentagon Correspondent Carla Babb contributed to this report. Some information for this article came Alhurra, as well as from The Associated Press, Agence France-Presse and Reuters.