MOGADISHU, Somalia 26 September 2022 – Somali Journalists Syndicate (SJS) trains 16 local journalists in Puntland on human rights journalism as part of the National Endowment for Democracy (NED)-supported program to promote human rights in Somalia.
The three-day training initiative in Garowe, the capital of Puntland State, intends to build a pool of competent journalists to train and prepare as human rights journalists' trainers who can teach other journalists on the reporting of human rights and to improve public awareness about human rights and to help expose underreported stories professionally and safely.
At the conclusion of the training in Garowe, the General Secretary of SJS, Abdalle Ahmed Mumin stated that journalists who cover human rights issues face extremely multiple challenges because they do not receive the support they need and therefore journalists and their media are unable to prioritise reporting on human rights. He saluted the sacrifice made by the local journalists covering human rights in Puntland.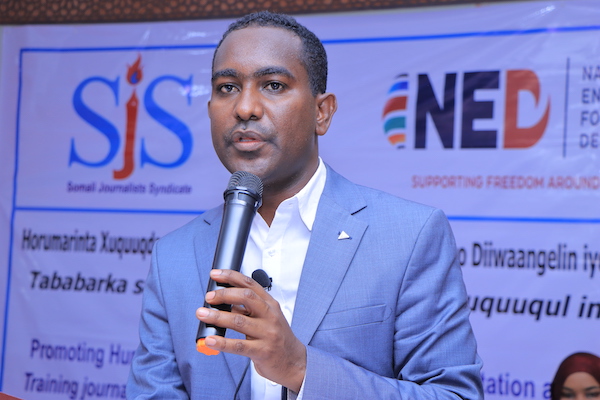 Lack of dedicated human rights focusing media and the low skill of local journalists remain as the main challenge against the promotion of the culture of human rights in Somalia. Tapping into the vital role that journalists can play in— not only as advocates but also as trainers through human rights education— can help to protect the effective enjoyment of human rights in Somalia.
"Human rights journalists in Somalia face security threats, economic hardship as well as inadequate skill-based trainings. This training aims to build the capacity of our human rights journalists and to prepare local journalists as human rights journalists' trainers. On behalf of SJS and the human rights journalists network, I am grateful to the National Endowment for Democracy (NED)for the support they have provided us," SJS Secretary General, Abdalle Ahmed Mumin said.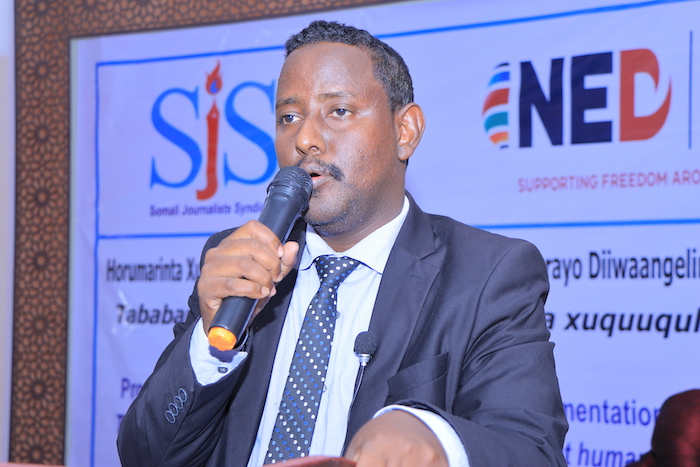 Lawmaker Mohamed Ahmed Abdi, a member of the Puntland parliament's human rights committee emphasised the need for protection of journalists as a public interest group. He noted provisions of the federal and Puntland constitutions that guarantee the work and independence of journalists.
"Journalists are indeed the public interest watchdogs. They are the ones who make it possible for the society to develop solutions to the existing problems. I want to call for respect and protection of the journalists," lawmaker Abdi said "I praise the journalists of Puntland who serve for their people with absolute courage. The human rights committee of the Puntland Parliament stands in solidarity with the journalists whenever they are threatened."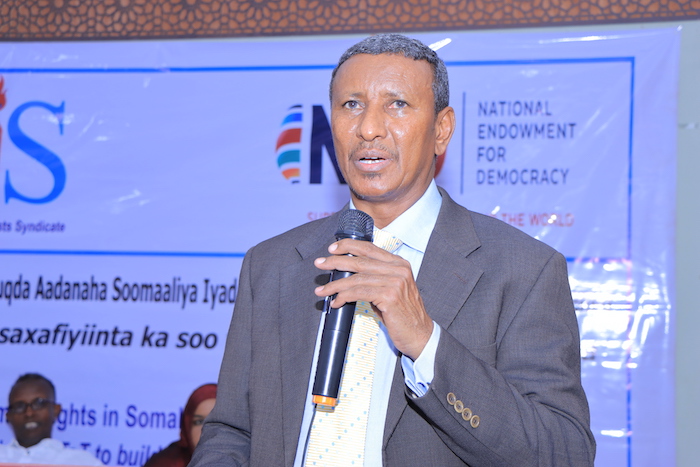 Minister of Information and Culture of the Federal Member State of Puntland, Mohamud Aidid Dirir acknowledged the role of the independent media in the transformation of the society and building a peaceful community that achieves sustainable development. He also praised SJS journalists' training activity in Puntland.
"The training of journalists is vital to build the skills of journalists to adapt to the changes that are taking place in our country— both at the federal level and at Puntland level. In Puntland, we are in the midst of the democratisation process that requires public awareness through the media. Journalists are also important to raise awareness on issues such as security and climate change which is affecting the people's human rights," minister Dirir added "We are very grateful to SJS and NED for providing this training to journalists in Puntland."